---
Studio Collection
Streets of London Poster
Size guide
Like The Art (

0

)
In stock

Out of stock

| Delivery in

3-7

business days
Free delivery over £29 / Return policy 90 days
Streets of London
- Black and white snapshot of a busy street in central London.
This black-and-white photo poster depicting one of London's central streets thronging with people, framed by gorgeous buildings, and with a British double-decker bus is just how you imagine London. The design can be combined with several other posters from the London collection – photographed by our creative team – into a stylish collage in your home. The poster has a white border which elegantly frames the design.

Studio Cosmopolitan

11365-5
Frame not included
Learn more about our products
">
Studio Collection - London
Studio Cosmopolitan is an exclusive photo art collection produced by Desenio's creative team. The photographs portray beautiful places and locales in three global cities – New York, London, and Paris. All three cities epitomise the vibrant culture and diversity of people who live and work there. And it's hardly a coincidence that trends in fashion, design, and art are frequently born in these cities.

Studio London is a unique collection of photo posters of the thronging city centre showcasing the timeless architecture and classic idiosyncrasies such as the red telephone boxes and double-decker buses. Combine the lovely splashes of colour in photo posters from Notting Hill together with images of magnificent structures such as Tower Bridge and Westminster Abbey to capture the diversity of London.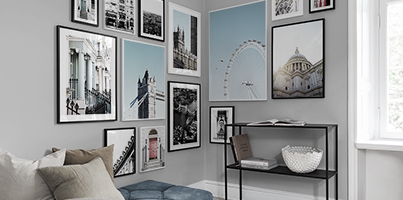 Others also bought
£14.95

Westminster Bridge Poster

Fr. £14.95

Fr. £14.95

Notting Hill Street Poster

Fr. £14.95

Fr. £14.95

Fr. £14.95