Prints
Art prints
Everything from unique artistic designs to abstract patterns and shapes. Many are hand-drawn and cannot be found anywhere else. Curate your own personal gallery wall with affordable and modern art from Desenio.
£23.95

£24.95

Fr. £14.95

From the Collection No1 Poster

£23.95

£23.95

Fr. £14.95

£23.95

Browns and Blues No2 Poster

£23.95

Mystery Flowers No 2 Poster

Fr. £9.95

Watercolor Flower Wall Poster

Fr. £12.95

Painted Leaves No2 Poster

Fr. £12.95

Fr. £8.95

£23.95

Beige Painting No1 Poster

Fr. £27.95

Fr. £14.95

Charcoal Series No2 Poster

Fr. £27.95
Art prints online
'Here you''ll find art prints and posters with an artsy feel. We offer a mix of modern art, abstract art, digital artworks and graphical design in everything from colourful designs to abstract patterns and shapes. Our art prints showcase highly diverse designs, and we promise that there is something for everyone – no matter if you prefer an elegant and timeless style, or more expressive and playful designs.  

Modern art in all its forms
Our creative team keeps constantly up-to-date and regularly designs new art posters so that we can always offer you the latest trends in modern art. With everything from hand-drawn, minimalist croquis drawings to graphic design prints with bold colours. Wall art is able to create a common theme throughout your home interior, either as a striking contrast to the rest of the surroundings, or to link together the style and colour of each room.
Tip! Use the filter feature on the left to find your preferred art style. The feature allows you sort according to themes, such as graphic design, flowers, people, or different colours, in order to easily find exactly what you're looking for. Discover all our range of
prints
in the dedicated category.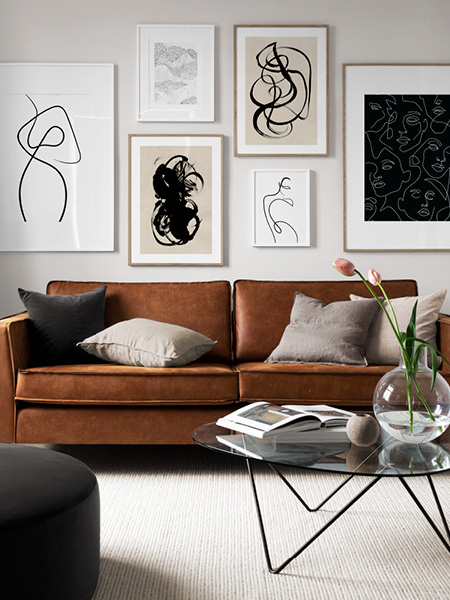 '